Global Sanitation Graduate School (GSGS)
The Global Sanitation Graduate School is a platform to facilitate the development and empower the dissemination of knowledge on sanitation through postgraduate (MSc) programs, online (self-study and instructor-led) courses, face-to-face (on-campus) courses and tailor-made training so that the sanitation challenges can be embraced with deeper insight, advanced knowledge, and greater confidence. It also provides an enabling environment with a vibrant community of professionals who have completed one or more educational or training courses offered by members of the School. The School offers a variety of course materials as open courseware. Please note that the actual enrollment on a course, program or training courses can only take place via the providers' official website and associated application procedures. Links are provided.
Managed by

Latest news
A new cohort of sanitation champions received the MSc degree at IHE Delft
The Global Sanitation Graduates School (GSGS) yielded its second cohort of sanitation champions with MSc in Sanitation degree from IHE Delft Institute for Water Education in the Netherlands. A new batch of 14 graduates is another step towards the goal of educating at least 1,000 sanitation champions under the GSGS program. After 12 months of hard work, our graduates have received their well-deserved degree during the special graduation ceremony held for the first time in the 63- years history of IHE Delft online.  Daniel Nyarko, Esther Akol, Florence Laker, Godfrey Masinde Barasa, Godwil Odongo, Jane Gatwiri Njagi, Lambert Lamisi Konlan, Leah Chepchirchir, Mwila Angela Kapembwa, Yahya Jerry Kiijana, Pascal Rukundo, Rodriques Lincoln Odeya, Sheik Mohammed Shibl Akbar Chinna Mohideen and Amie Jammeh are the proud degree holders of the second cohort of the MSc in Sanitation Program. Dr. Roshan Shrestha of the Bill & Melinda Gates Foundation, a honorable guest of the graduation ceremony, greeted the students, wished them good luck in their careers and invited them to stay in touch and make use of the GSGS alumni hub. The graduation was part of the ceremony during which 141 water experts from 46 countries received a Master's degree from five postgraduate programs at IHE Delft.
Ms. Amie Jammeh received The Best MSc in Sanitation Thesis 2020 Award
As a part of the grant Accelerating the impact of education and training in non-sewered sanitation, the Bill & Melinda Gates Foundation is supporting The Best MSc in Sanitation Thesis Award to a graduate of the Master of Science in Sanitation Program at IHE Delft. The award facilitates the preparation of publication and its presentation at a conference of awardee's choice. The Award was presented this time online in presence of Dr. Roshan Shrestha, Deputy Director, Water, Sanitation, and Hygiene Program of the Bill & Melinda Gates Foundation. This year's Award goes to Ms. Amie Jammeh from Gambia for her thesis entitled The many meanings of menstruation: practices & imaginaries among school girls in Lusaka, Zambia. This achievement of Amie is even more special because she was awarded an MSc degree with distinction as well. Amie started her study in Delft in April 2018 as a part of the first cohort of the new MSc Program in Sanitation but had to pause her study because of the birth of her child. Thanks to the Family Support Fund of the GSGS, Amie was able to go back to Gambia and to come back to resume her studies in Delft a year later. She did not return just to complete an unfinished job, but she turned it into remarkable accomplishment. No doubt Ms. Amie Jammeh is a very special person, Congratulations to Amie and also to her mentors for their guidance and patience!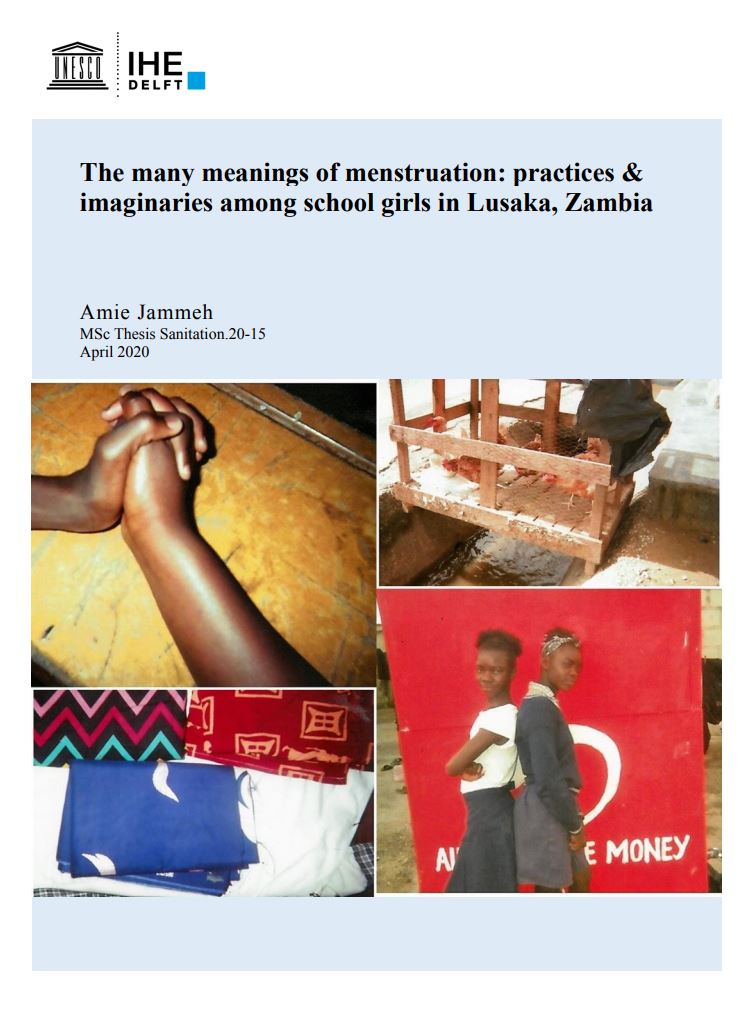 Courses, programs and training
The Global Sanitation Graduate School provides access to high-quality graduate educational products on sanitation in one place. It assembles programs, courses and training materials from internationally renowned top sanitation educators, such as the new MSc course on Sanitation, several Graduate Professional Diploma Programs, a large number of instructor-led and self-study online courses (including MOOCs), specialized laboratory courses and tailor-made courses. Please take a look below and find a product that fits your needs and matches your expectations.
Stories from the field
The Bill & Melinda Gates Foundation, IHE Delft and their partners invite alumni members of the Global Sanitation Graduate School to share examples from their professional lives that demonstrate how they have used and/or applied knowledge gained from their participation in the Alliance's activities. Find more on how to submit your story here.
All stories
Meet our alumni
Every scholar who has completed one or more educational or training courses offered by the Global Sanitation Graduate School will join a vibrant community of alumni. In addition, the database includes many course instructors, teachers, and supervisors.
See all alumni